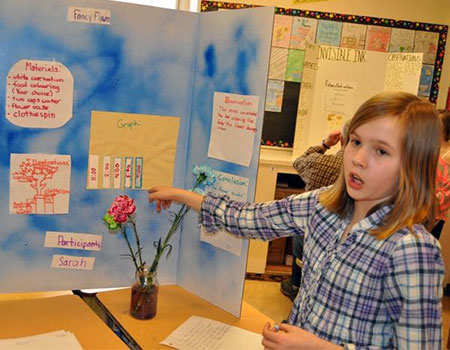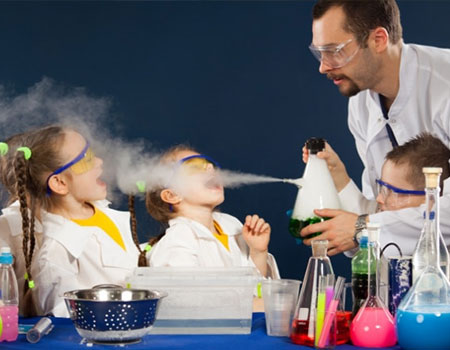 Geniuses- 5th-6th Grade
Students in this age have begun to formalize the study of science. We continue the hands-on curriculum while beginning to introduce how scientists use math as a tool and how to organize the inquiry. Students are encouraged to discuss the why behind their observations, and to gain a broad appreciation for the many fields of science and engineering they might explore as a career in the future. The middle school ACS program (see below) is also an option for students in 5th-8th grades.
** A word about grade levels. For the most part, students who come to us for more science instruction in 3rd-8th grade are already advanced in knowledge and ability. Our small class sizes allow our instructors to modify lesson plans, and use materials that are "ahead" of the public school curriculum levels. You can be confident that your student will learn and achieve at a level which is appropriate for them as individuals. We can't wait to meet them!
DETAILS :
We will conduct 60 minutes session every week in Fall of 2023. The 60-minute session is divided into theory followed by a hands-on experiment. Lessons are conducted in a live instructor-led learning environment, with abundant opportunities to explore and interact with their peers. For Fall 2023, classes will start from September 30th and will run through December 23rd. There will be total 12 sessions for the Fall Semester and we will cover topics which align with NGSS standard for the grade level. For a detail of the topics, please click on the Lessons Tab. All Sessions are conducted in-person and limited to 6 students per class only.
| Lesson Plans | NGSS Standard | Standard Description |
| --- | --- | --- |
| What is science? How do we know things? | | Video and discussion of what areas scientists and engineers study, and discussion with students about what areas of science fascinate them. |
| How does a solar system form? | 6.MS-ESS1-2 | Develop and use a model to describe the role of gravity in the motions of galaxies and within the solar system |
| What kinds of planets are there? Different bodies in the solar system | MS-ESS1-2 | Develop and use a model to describe the role of gravity in the motions within galaxies and the solar system. |
| Astrobiology, what makes a planet livable? Design your own planet activity | 5-ESS2-1 | Develop a model using an example to describe ways the geosphere, biosphere, hydrosphere, and/or atmosphere interact. |
| Seeing the phases of the moon, and eclipses | MS-ESS1-1. | Develop and use a model of the Earth-sun-moon system to describe the cyclic patterns of lunar phases, eclipses of the sun and moon, and seasons. |
| Seasons, the amount of daylight on earth affects the climate | MS-ESS2-6 | Develop and use a model to describe how unequal heating and rotation of the Earth cause patterns of atmospheric and oceanic circulation that determine regional climates. |
| Types of energy, how energy is transferred | 7.MS-PS3-1 | Make observations to provide evidence that energy can be transferred from place to place by sound, light, heat, and electric currents. |
| electricity, electric circuits | 7.MS-PS3-1,2,3 | Make observations to provide evidence that energy can be transferred from place to place by sound, light, heat, and electric currents. |
| how mechanical energy can be used | 7.MS-PS3-1,2,3 | Construct and interpret graphical displays of data to describe the relationships of kinetic energy to the mass of an object and to the speed of an object. |
| magnetism | MS-PS2-3 | Examples of devices that use electric and magnetic forces could include electromagnets, electric motors, or generators. Examples of data could include the effect of the number of turns of wire on the strength of an electromagnet, or the effect of increasing the number or strength of magnets on the speed of an electric motor |
| electricity and magnetism continues | 7.MS-PS2-3 | Examples of devices that use electric and magnetic forces could include electromagnets, electric motors, or generators. Examples of data could include the effect of the number of turns of wire on the strength of an electromagnet, or the effect of increasing the number or strength of magnets on the speed of an electric motor |